Very Hard Questions
---
Revision as of 19:49, 12 February 2020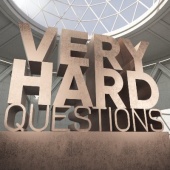 Host
Jon Snow
Broadcast
Youngest Media for More4, 19 February 2020 to present
Synopsis
Jon Snow asks questions of expert quiz teams. According to the billing, these are "the most difficult quiz questions ever seen on TV". If they're stumped and need help then clues are available, but at a cost.
Each episode sees two teams post a score, with the top teams returning for the series final.
This programme has not yet aired. A full review will appear here after broadcast.
Trivia
Generally promoted as Jon Snow's Very Hard Questions, to help internet searches find the show.
Feedback