Blue Peter You Decide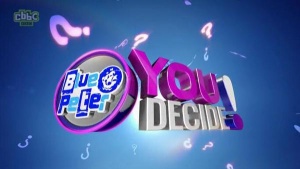 Host
Co-hosts
Judges: Eamonn Holmes, Myleene Klass, Ceallach Spellman
Broadcast
CBBC, 24 June to 22 July 2013 (5 episodes in 1 series)
Synopsis
The presenters of Blue Peter are a tough breed. They need to be able to wear a beard of bees, plunge deep down an ice crevasse, make scary monsters out of old socks, and put the star on top of a Christmas tree without it falling off.
After two years of Helen Skelton and Barney Harwood hosting, it became clear that an extra presenter would be needed. And in true Blue Peter style, moving just behind the fashion, the producers decided to make a competition out of it. Ten thousand applicants were whittled down to the final ten.
Who gets to wear the blue-and-white badge?
Their performances were critiqued by CBBC star Ceallach Spellman, by former quiz god Myleene Klass, and by sometime travel agent Eamonn Holmes. It's the typical CBBC family: viewer, mother, and great-grandfather. The funny cousins were CBBC irregulars Dick and Dom.
Reduced from ten to three, the finalists were subjected to a vote amongst the CBBC audience to determine who would win, and who would join Michael Underwood and Jake Humphrey in the also-rans.
If you can help us to expand this entry, please provide as much information as possible, using the feedback form below.
Champion
Lindsey Russell, who had been a drama student from Oxfordshire.
Theme music
Paul Farrer, whose work interpolated "Barnacle Bill", the classic Blue Peter theme.
Web links
Pictures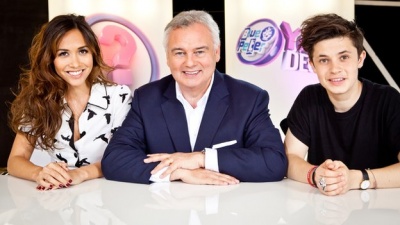 The judges: Myleene, Eamonn, and Cel.
See also
Feedback