Britain's Brightest Family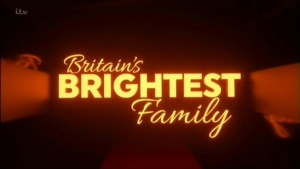 Host
Anne Hegerty
Broadcast
Gameface for ITV, 10 January 2018 to present
Synopsis
Anne Hegerty from The Chase hosts a family quiz with differences.
The family - a young captain, and two older relatives - answer questions on the buzzers. Unlike most other shows, this quiz isn't straightforward trivia, but uses pictures and graphics throughout.
The show opens and closes with a team round. One player buzzes in, and nominates another member of their team to answer the question. To show this, the nominated player's chair goes a little way up.
In between, each player has a solo round. The subjects - words, mathematics, and logic puzzles - allow for more variety in the questions.
Scoring is also unusual: ten points for each correct answer, but if someone gives an incorrect answer, the points go to the other side automatically.
Anne Hegerty is at her best when talking to the families, firm and supportive. The show is light and brisk, helped by questions that are a cut above the trivial norm.
Champions
Curtis Family (Alex, Chris, Brendan)
Theme music
Medina Sound, credited for Music.
See also
Feedback