Diane Youdale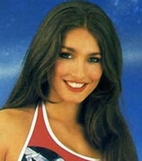 Biography
Former gymnast who was apparently in something called She-Wolf Of London around 1990, but really shot to fame as Jet in Gladiators.
She was known as Diane Youdale Mayhew for a while, but apparently is back to just being plain old Diane Youdale. But it's probably best just to call her Jet instead. She'll love that.
She's now a mid-morning presenter for BBC Tees in her home city of Middlesbrough.
Trivia
After leaving Gladiators she spent five years studying and is now a practicing Psychotherapist and Counsellor. To this end, she appeared on Five's Trisha Goddard show on occasion.
She appeared on Russell Howard's Good News in 2011 as a mystery guest, because Russell was a big fan of Gladiators when he was younger. They even had a "Duel" fight!
Web links
Feedback